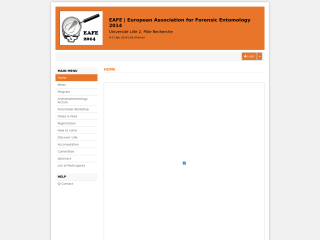 European Association for Forensic Entomology 2014
9-11 avr. 2014
Lille University, School of Medicine, Research building Univ Lille 2, Faculté de Médecine, Pôle Recherche - Lille (France)
Dear EAFE members,
We are happy and honoured to host the 11th Forensic Entomology European Association meeting in Lille, France, from the 9th to 11st of April 2014.
Lille is a nice old city located in the north of France and close from Paris, Brussels and London. In the past decades, Lille has transformed itself from the historical Capital of Flanders into a radiant and self-confident cultural and commercial European metropolis. Named cultural capital of Europe in 2004, it now offers a wealth of activities and a buoyant urban life. Remarkably restored, the Old town enchants the eye with its flamboyant architecture. The softly dare facades that set off the exuberance and profusion of their decoration. The extraordinary diversity of the 17th century architecture is an invitation to saunter; so look up to appreciate the perfect harmony of brick and stone. Highlights for the visitor include an attractive historical center with a strong Flemish influence, three internationally-renowned art museums, shopping and nightlife scene.
We hope too that the nationally recognised sense of welcome of the Northern France people (Ch'tis) will work offering to participants an appropriate and cheerful environment to share the science and latest research, and to make connections.
Please create an account and sign in to access abstract submission and registration.

The deadline for abstract submission is 2014-03-16.
Université Lille 2 Pôle Recherche
1 Place de Verdun
59000 Lille
GPS : Latitude 50°62' | Longitude 3°14'
More information about Lille
EAFE website
Discipline scientifique : Zoologie des invertébrés
---
Lieu de la conférence