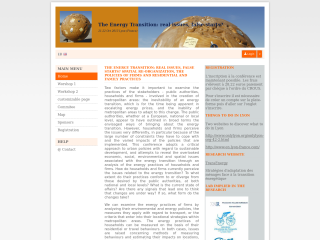 The Energy Transition: real issues, false starts?
21-22 oct. 2013
ENTPE, rue Maurice Audin, 69518 Vaulx-en-Velin cedex - Lyon (France)
Two factors make it important to examine the practices of the stakeholders - public authorities, households and firms - involved in the creation of metropolitan areas: the inevitability of an energy transition, which is for the time being apparent in escalating energy prices, and the inability of metropolitan areas to adapt to this change. The public authorities, whether at a European, national or local level, appear to have outlined in broad terms the envisaged ways of bringing about the energy transition. However, households and firms perceive the issues very differently, in particular because of the large number of constraints they have to cope with and the varied impacts of the policies that are implemented. This conference adopts a critical approach to urban policies with regard to sustainable development, and attempts to reveal the overlooked economic, social, environmental and spatial issues associated with the energy transition through an analysis of the energy practices of households and firms. How do households and firms currently perceive the issues related to the energy transition? To what extent do their practices conform to or diverge from those desired by the public authorities, at both national and local levels? What is the current state of affairs? Are there any signals that lead one to think that changes are under way? If so, what form do the changes take?
Discipline scientifique : Sciences de l'Homme et Société
---
Lieu de la conférence