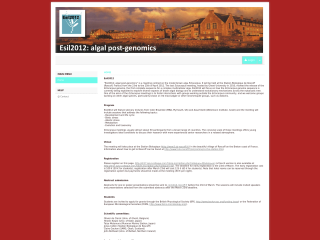 Esil2012: algal post-genomics
23-25 avr. 2012
Station Biologique de Roscoff, Place Georges Teissier, 29682 - Roscoff (France)
Esil2012
"Esil2012: algal post-genomics" is a meeting centred on the model brown alga Ectocarpus. It will be held at the Station Biologique de Roscoff (Roscoff, France) from the 23rd to the 25th of April 2012. The last Ectocarpus meeting, hosted by Ghent University in 2010, marked the release of the Ectocarpus genome, the first complete sequence for a complex multicellular alga. Esil2012 will focus on how the Ectocarpus genome sequence is currently being exploited to explore diverse aspects of brown algal biology and to understand evolutionary mechanisms across the eukaryotic tree. One of the aims of the Ectocarpus meetings is to foster interactions with groups working outside the Ectocarpus community, and we welcome groups working on other algal species, particularly brown or red macroalgae or other stramenopile groups, such as diatoms.
Program
Esil2012 will feature plenary lectures from Colin Brownlee (MBA, Plymouth, UK) and Assaf Vardi (Weizmann Institute, Israel) and the meeting will include sessions that address the following topics:
- Development and life cycle
- Biotic stress
- Abiotic stress
- Metabolism
- Evolution and taxonomy
Ectocarpus meetings usually attract about 50 participants from a broad range of countries. The convivial scale of these meetings offers young investigators ideal conditions to discuss their research with more experienced senior researchers in a relaxed atmosphere.
Venue
The meeting will take place at the Station Biologique (http://www3.sb-roscoff.fr/) in the beautiful village of Roscoff on the Breton coast of France. Information about how to get to Roscoff can be found at http://www3.sb-roscoff.fr/en/coming-to-the-station.html.
Registration
Please register on this page: http://dr17.azur-colloque.cnrs.fr/pre-inscription.php?colloque=42&lang=en (a french version is also available at http://dr17.azur-colloque.cnrs.fr/pre-inscription.php?colloque=42). The deadline for early registration is the 23rd of March. The early registration cost is 100 € (50 € for students), registration after March 23rd will cost 125 € (65 € for students). Note that hotel rooms can be reserved through the registration system but payments should be made at the meeting (50 € per night).
Abstract submission
Abstracts for oral or poster presentations should be sent to cock@sb-roscoff.fr before the 23rd of March. The sessions will include invited speakers and presentations selected from the submitted abstracts after the March 23rd deadline.
Students
Students are invited to apply for grants through the British Phycological Society (BPS, http://www.brphycsoc.org/funding.lasso) or the Federation of European Microbiological Societies (FEMS, http://www.fems-microbiology.org/).
Scientific committee:
Olivier de Clerck (Univ. of Ghent, Belgium)
Hiroshi Kawai (Univ. of Kobe, Japan)
Taizo Motomura (Muroran Marine Station, Japan)
Jonas Collén (Station Biologique de Roscoff)
Claire Gachon (SAMS, Oban, Scotland)
John Bothwell (Univ. of Belfast, Northern Ireland)
Local organising committee:
J. Mark Cock
Akira Peters
Catherine Boyen
Susana Coelho


Contact person:
J. Mark Cock
Algal Genetics Group, UMR 7139 CNRS-UPMC
Marine Plants and Biomolecules,
Station Biologique, Place Georges Teissier,
29682 Roscoff, France
Email: cock@sb-roscoff.fr
Discipline scientifique : Sciences du Vivant
---
Lieu de la conférence